If you have configured the forms correctly but the form still don't send, or send out the message but you don't receive anything, it could be possible that the mail server of your domain is causing this issue. This is a common issue with contact forms and WordPress and can be fixed by setting up a secure connection for your mail server by using the WP Mail SMTP plugin.
Setup the WP Mail SMTP plugin
Make sure you have installed and activated the WP Mail SMTP plugin and have the following details at hand:
– SMTP Host
– SMTP Port
– SMTP Username (the email address that is used in the contact forms on your website)
– SMTP Password (password of above email address)
These details can be found in the email you have received from your hosting provider.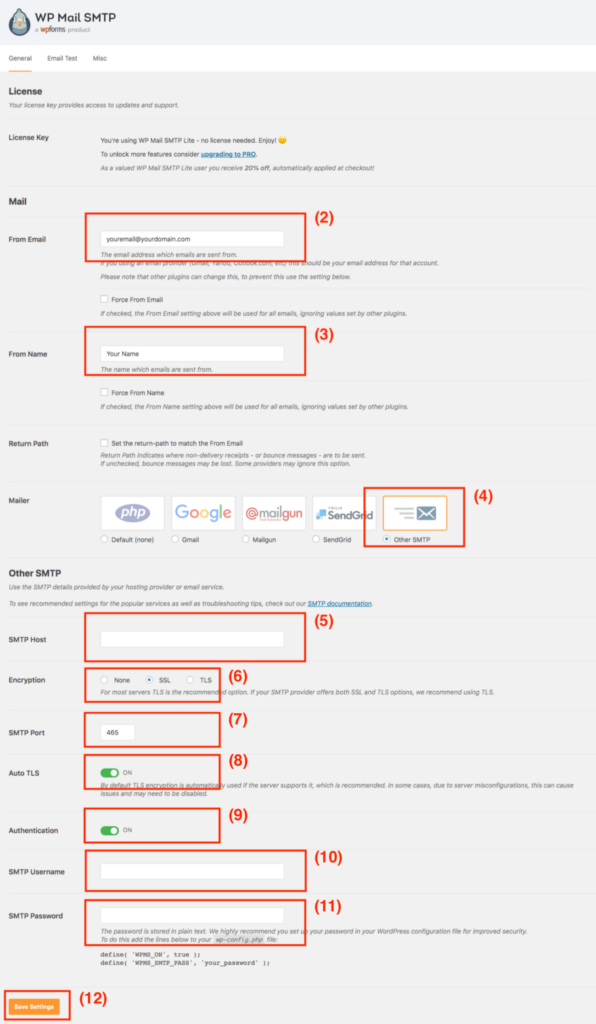 Navigate to the "WP Mail SMTP" tab in the admin menu
At the "From Email" setting enter the email address that you're using in your forms
At the "From Name" setting enter the name which emails are sent from
Select the "Other SMTP" option
Enter the SMTP Host (can be found in an email from your hosting provider)
At the "Encryption" setting select "SSL" (select "TLS" if SSL is not available).
Enter the SMTP Port (can be found in an email from your hosting provider)
Set the "Auto TLS" setting set to "On"
Set the "Authentication" setting to "On"
Enter the SMTP Username (the email address you're using in your contact forms)
Enter the SMTP Password (the password of the email address)
Save the settings